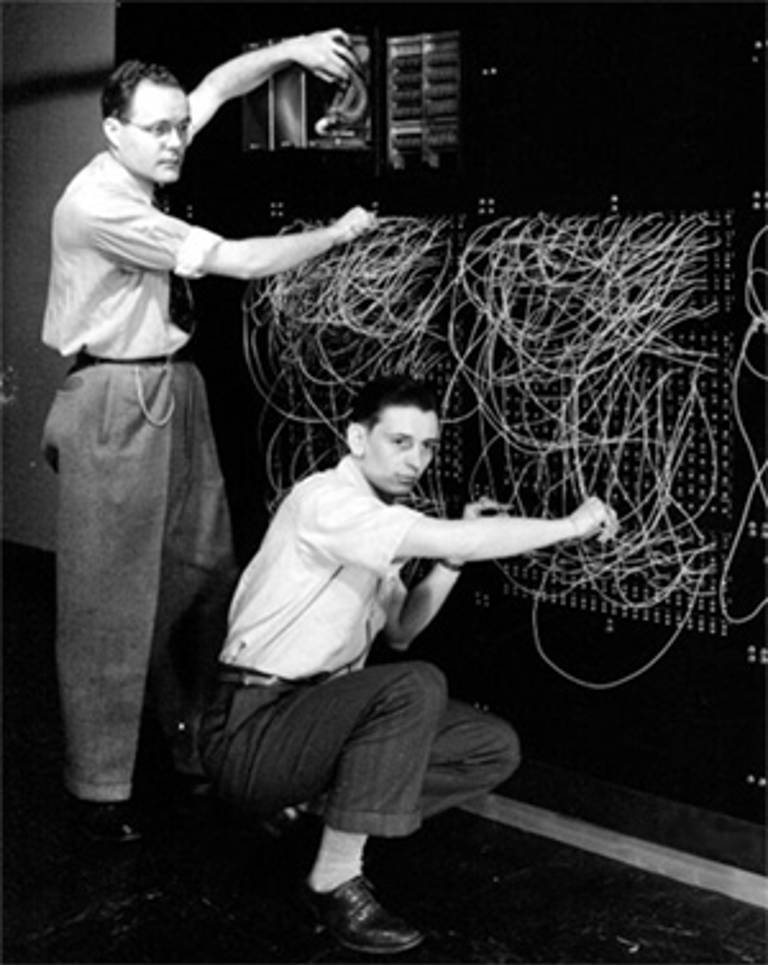 Finding a good read
Amazon's customer reviews and suggestions are widely used and can be quite helpful if taken in balance. However, because of the way people often make book purchases, the adjacencies (people who bought this also bought….) don't always reflect personal reading tastes.
For example, in preparation for one of our training sessions for new whichbook readers, participants had to buy from Amazon the two books they would be focusing on, A Girl Made of Dust by Nathalie Abi-Ezzi and An Arsonist's Guide to Writers' Homes in New England by Brock Clarke. These books had deliberately been chosen to be as different from each other as possible. Seven or eight new whichbook readers bought these two books at the same time on Amazon. For the next nine months every time we checked on one of them it said People who bought Abi-Ezzi also bought Brock Clarke and vice versa.
Other book discovery sites offer different routes to the next book. For example, whatshouldireadnext.com uses a collaborative filtering system – when books are entered on the same favourites list they become associated with each other and the more often items appear on different lists the stronger the association becomes. You input the title of a book you've enjoyed and the site suggests a list of other titles which have appeared on other readers' lists alongside it. A search for The Shining by Stephen King, for example, brought up a predictable number of titles by Dean Koontz and Clive Barker but also, more unexpectedly, Arturo Perez-Reverte and Agatha Christie.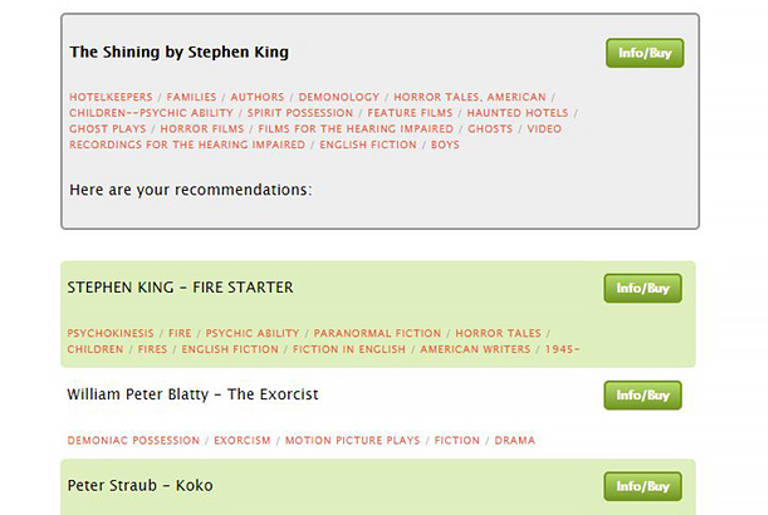 Goodreads.com claims to be the world's largest site for readers and book recommendations and with 30 million members this is probably true. You can keep track of what you've read and want to read. You can see what friends who are members of the site are reading and exchange recommendations with them, read and write reviews and receive personalised book recommendations generated by the site.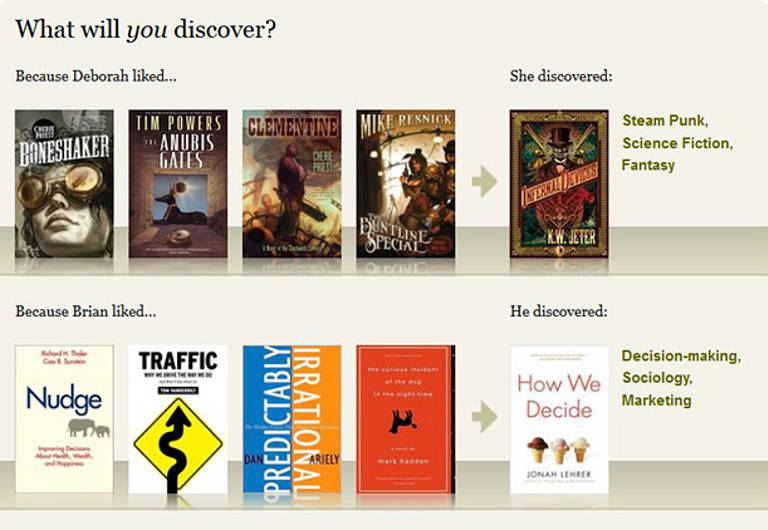 For a different approach, gnod.com is worth watching. This is an experimental site in the field of artificial intelligence. It's a self-learning system which questions you about what you like in order to suggest new things you might like. They call it 'a search engine to find things you don't know about'. An interesting feature on this site is the literature map. Type in the name of a writer you like and it generates a map of other authors read by people who like the same writer. It's a bit hit and miss when you consider how eclectic many people's reading is but, as this site grows and learns, who knows?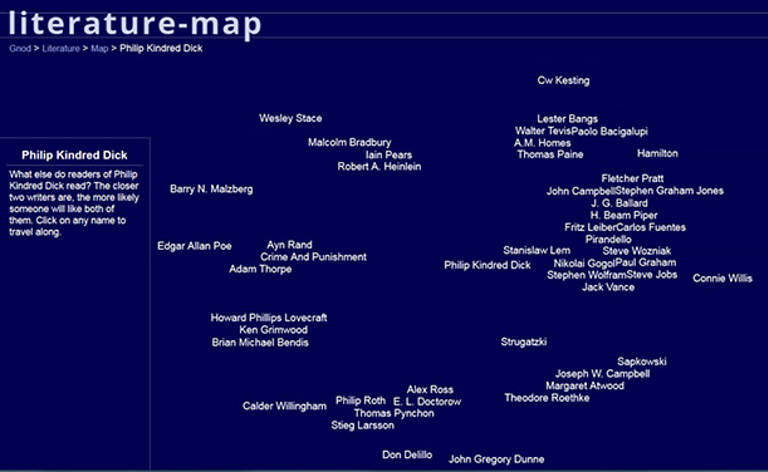 In 2014 the Guardian spotlighted whichbook in a feature about how to be a smarter reader. Whichbook offers lots of ways to find what to read next. You can browse themed book lists like Weird and Wonderful or A Terrible Beauty; you can check out the Guest Lists compiled by whichbook users and friends like author Chan Ling Yap and retired librarian Rosemary Bullimore; or you can use the famous whichbook sliders which enable you to choose by the mood of the read – eg, Safe / Disturbing, Larger than Life / Down to earth, Gentle / Violent. This unique approach offers the answer to that age-old problem, 'Once I've read everything by my favourite authors, where do I go next?' Use the sliders to mix the specific kind of read you're after and you'll be plunged into different genres and types of writing you might not have ever chosen for yourself – but you'll still be getting a reading experience you will enjoy. Whichbook has also just featured on goodnet.org's '6 Sites to Help You Find Your Next Best Read'.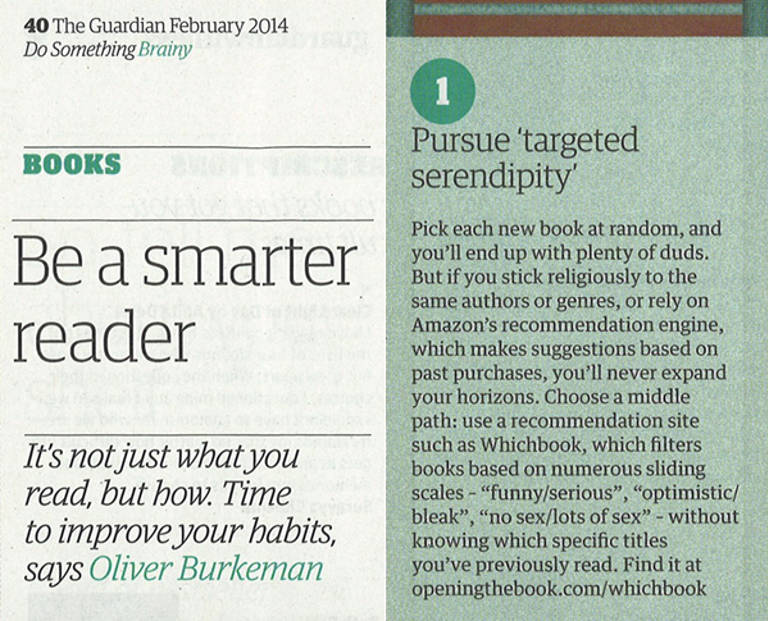 Many of the above resources are invaluable for library staff looking for information on unfamiliar authors and genres, for providing information for reading groups as well as stock selection. As whichbook is known for championing independent publishers and new writers it is used by many library staff for finding out what's cutting edge in publishing. To aid in this process, and to help readers who are more purposive in their searching, we've added a complete alphabetical list of Authors and Titles featured on the site.
Is there a site for readers that you really like or have found useful? Please let us know and we'll pass the information along via our Facebook page.
Website links: