About Opening the Book
We have grown into two sister companies in the UK and USA employing 13 staff and supported by a wide network of designers and suppliers. Starting from the reader has led us into new kinds of audience engagement, new methods of promotion, new library furniture and a complete rethink of how to approach the physical layout of libraries from the customer experience point of view instead of the traditional collection management approach. We have applied this knowledge to promote reading in primary schools, secondary schools, public libraries and online. Here are some of the highlights of our journey.
The Opening the Book Story
2022
A new website for readers to get personalised recommendations from their local library service is developed at a cracking pace so that 15 library partners can test it out.  Following a successful bid for lottery funding to Arts Council England, Ask for a Book goes live in a soft test at the end of the year and will roll out in 2023.
2021
We create what is possibly our most exciting children's library in a building which was previously a training centre.  At Llanwrst Library we worked with the brilliant Conwy staff, plus poets and artists, to create a magical experience themed on the natural environment combined with storytelling.
2020
We relaunch our online training offer on a new updated platform.  Brand new courses at Entry and Advanced level to meet new needs; greater security and ease of emailing within courses; updated interactive exercises using current book covers and updated free downloads. If you have never experienced our training, take the free trial Making Space for Reading to see why so many library staff rate it so highly.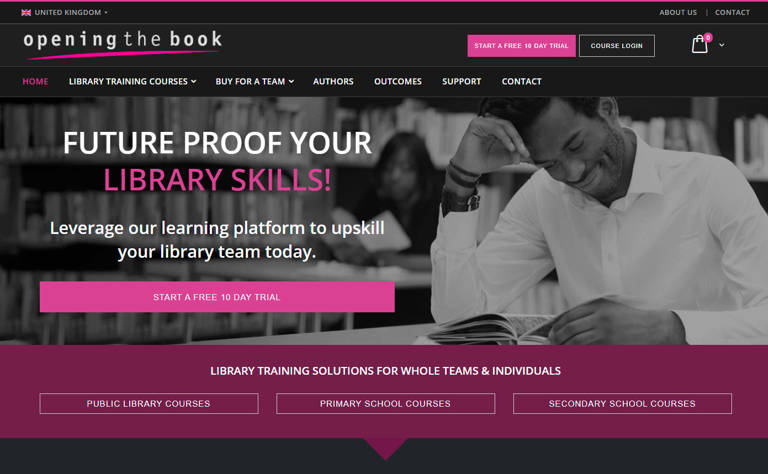 2019
Lichfield Library becomes one of our most successful projects ever. Visitors double, issues increase by 18%, a landmark church is brought back to life and a city centre square is revitalised.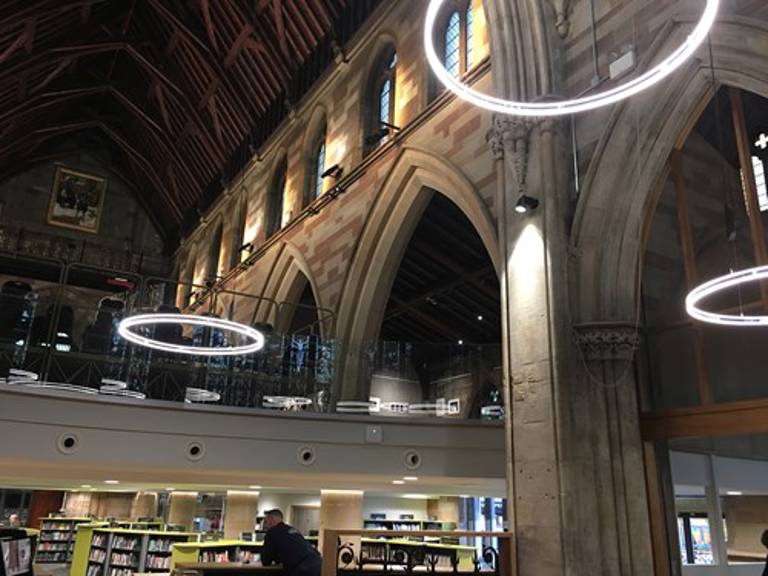 After 18 years of co-ownership, Helen Thomas and Rachel Van Riel decide to amicably go different ways so that Helen can relaunch Opening the Book Furniture as BookSpace and Rachel can develop Opening the Book North America. See www.openingthebookus.com and www.bookspaceforschools.co.uk.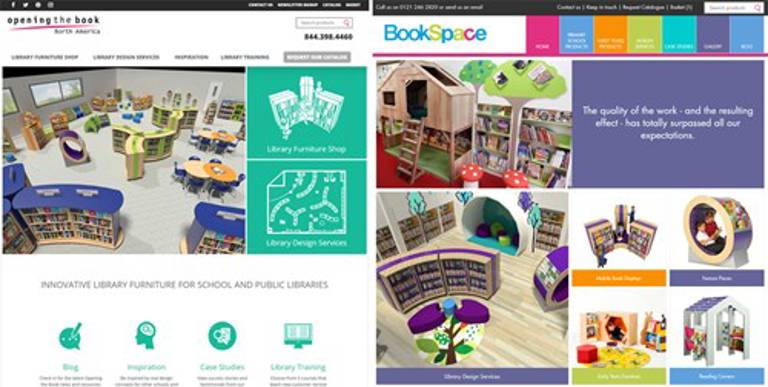 2018
We renew our partnership with the State Library of Victoria to create Reaching Readers, an 8-week action-learning course for middle managers to undertake new practice, especially in outreach work. After 3 great years with us, Arianne leaves to go travelling and we are very pleased to welcome Amera Salejee as our CAD Designer as co-locations and community hubs become an increasing part of our design portfolio.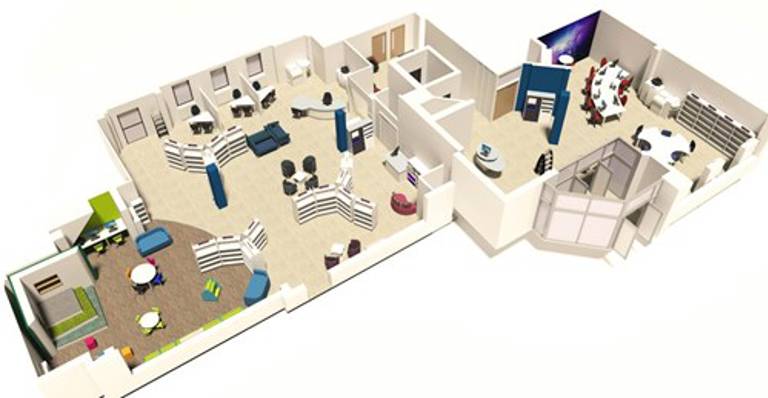 2017
We are delighted to win the tender to work again with the Society of Chief Librarians (now Libraries Connected) to create a Reader Development e-Learning Module for public library staff. Talking with Readers is launched as a free offer to libraries in England and Wales. Meanwhile Jolie Conahan becomes Director of Sales and Marketing for Opening the Book North America and our work in the US and Canada begins to take off.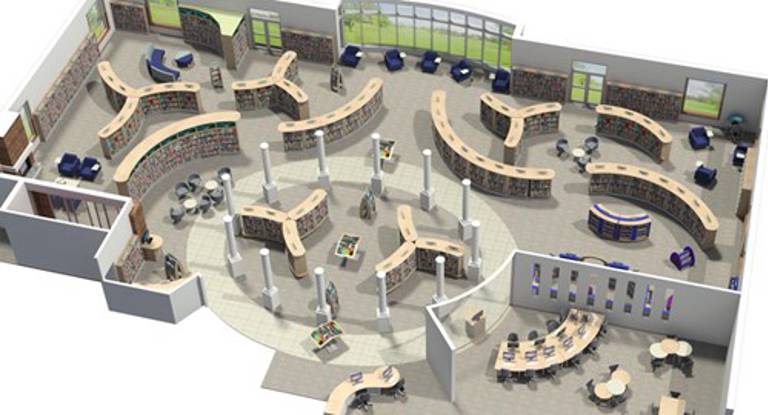 2016
We set up Opening the Book North America to take our ideas and products to the United States and Canada. Chris White becomes Sales and Marketing Director and moves to Pennsylvania for a year to get the company established. He is joined by Megan Fink as Sales and Marketing Co-ordinator. In the UK we develop new mobile shelving and tables for secondary schools.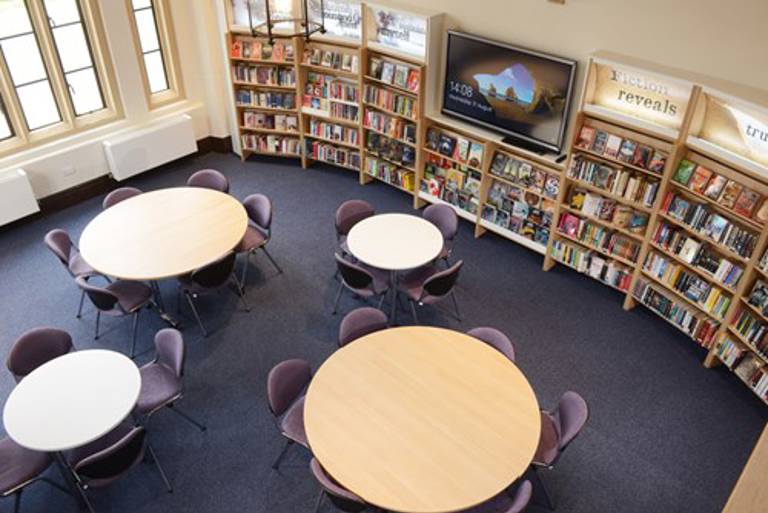 2015
BookSpace becomes the leading supplier of libraries and book corners to UK primary schools.
Our online training is completely updated and relaunched as Frontline Basics, Standard and Professional.
In the new model of library co-locations, we work with Redbridge Vision Culture and Leisure in London to redesign the space at South Woodford to create a fresh library offer alongside a fully equipped gym – and the gym pays for the library refurbishment.
2014
Opening the Book moves into our own-designed new offices and we have space for new staff – Arianne Goldsborough joins as Design Assistant and Linda Geraghty as Finance Coordinator.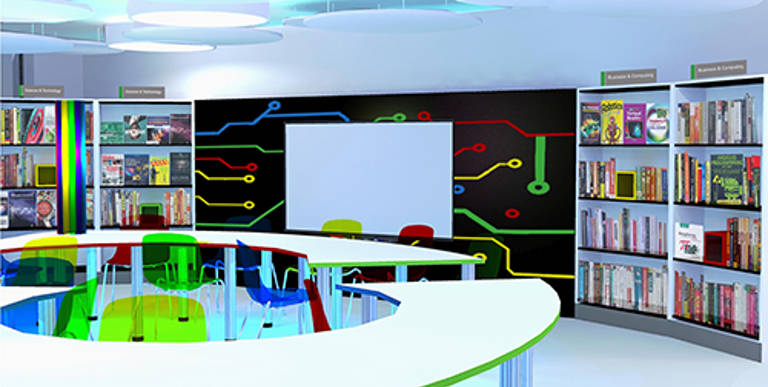 The BookSpace offer is so successful we expand the team, recruiting Jonathan Turner as a second library designer to support Michelle Mills. Meanwhile Chris White becomes Sales Manager, Shreena Maughan Administration Manager and Dave Taylor manages the warehouse.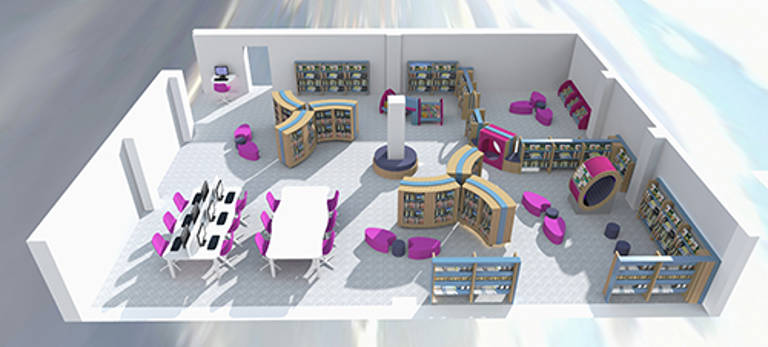 2013
Completion of Frontline Victoria, a collaboration between Opening the Book and the State Library of Victoria, the Public Libraries Victoria Network and library services across the state to train 1000 Australian staff on Frontline. This is the most successful example of Opening the Book training ever. Apart from all
 the specific learning outcomes, nearly half of a sample of 229 graduates said that the course completely changed their view of their job and their library.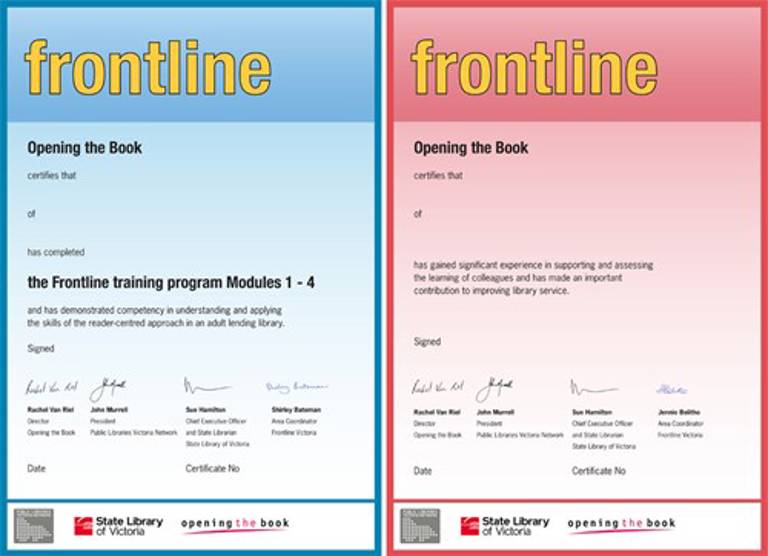 2012
Opening the Book celebrates 21 years of innovation.
WordSpace is launched, an innovative range of resources to encourage children to enjoy writing.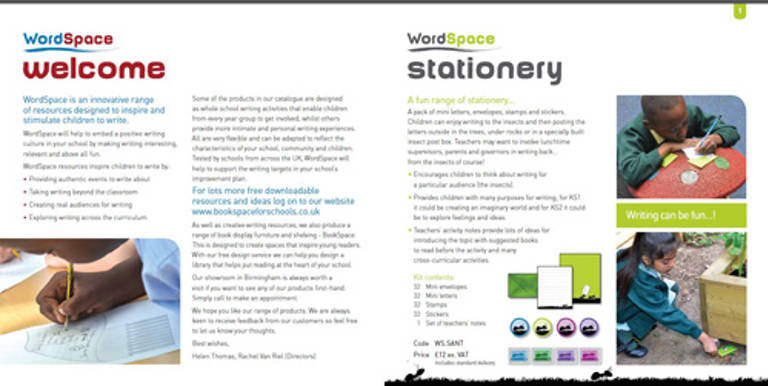 Opening the Book Furniture launches in North America in partnership with Brodart.
2011
Launch of interActive online course to stretch and challenge library professionals. The discussion board between Australia, Canada and Scotland is lively.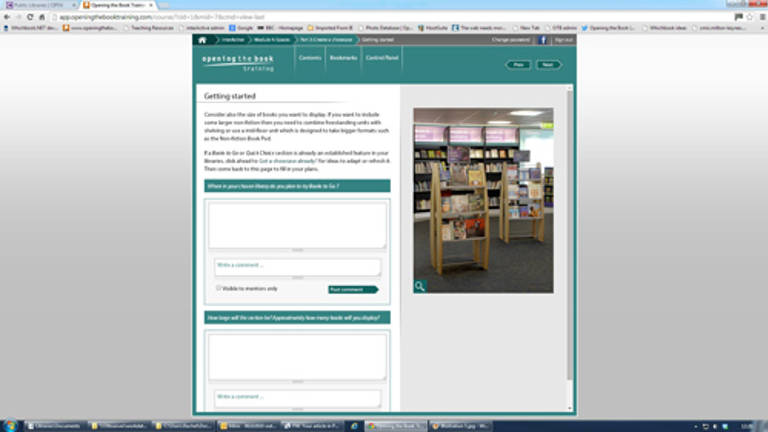 We introduce our BookSpace concept to change the presentation of reading in primary schools. We go on to create 150 BookSpace installations in the next 3 years.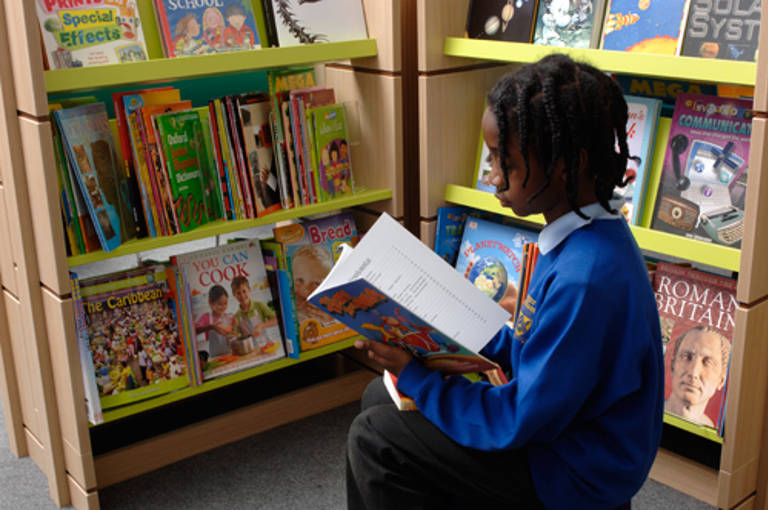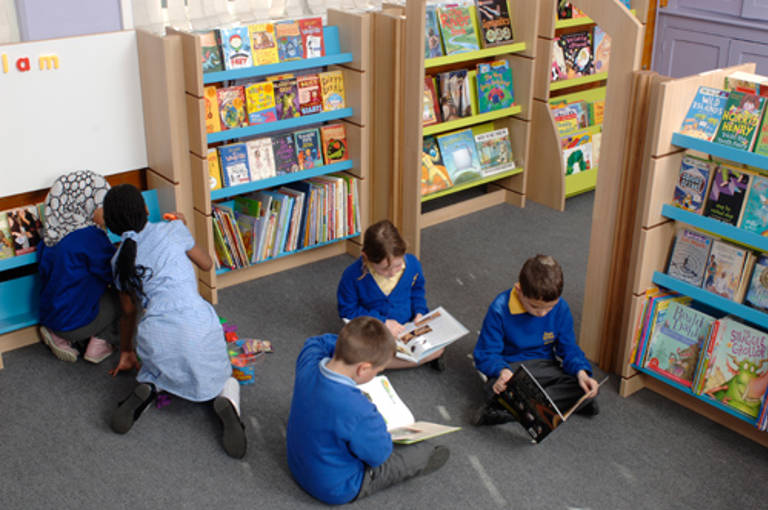 2010
Opening the Book Furniture takes on its own distribution, with a warehouse, a van and a great new support team with Chris White and Mel Cieciora.
2008
Opening the Book design and installation goes independent – from now on we manage every aspect ourselves, supported by our great range of suppliers, to deliver 100 unique installations in the next 6 years.
The Reader-friendly Library Service is published – supported by the Arts Council, free copies go to every English library service. Plus it is translated into Norwegian. This is the core text for reader-centred work in libraries and contains hundreds of project ideas from the Branching Out programme.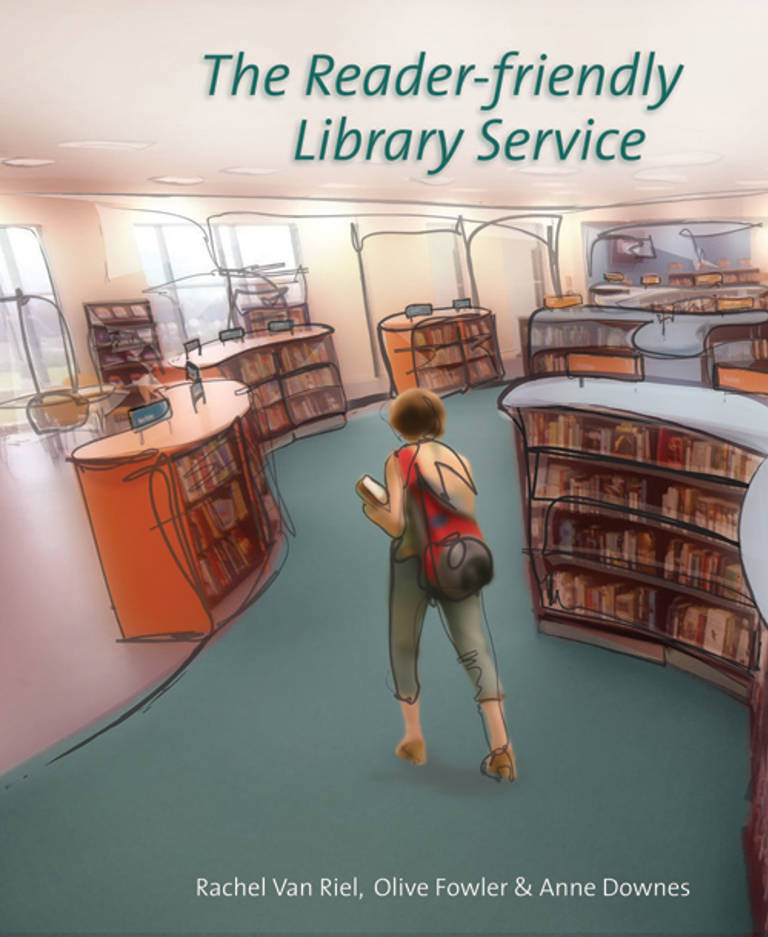 2007
Opening the Book Furniture moves to its own office and showroom in the historic Jewellery Quarter in Birmingham.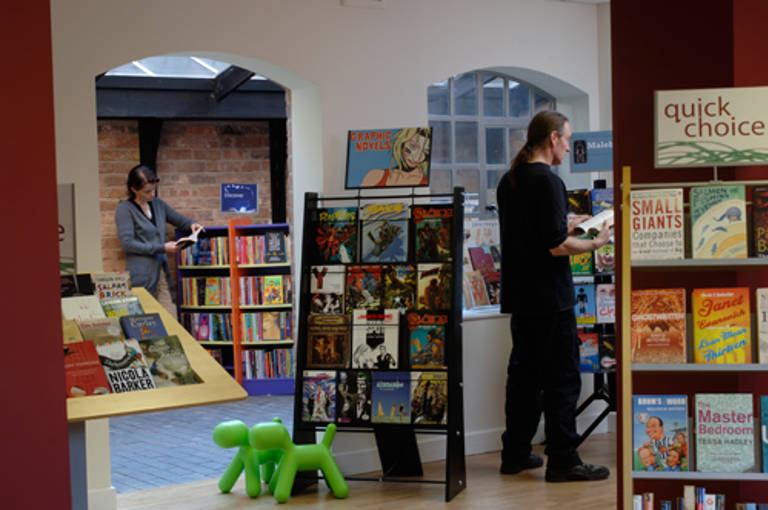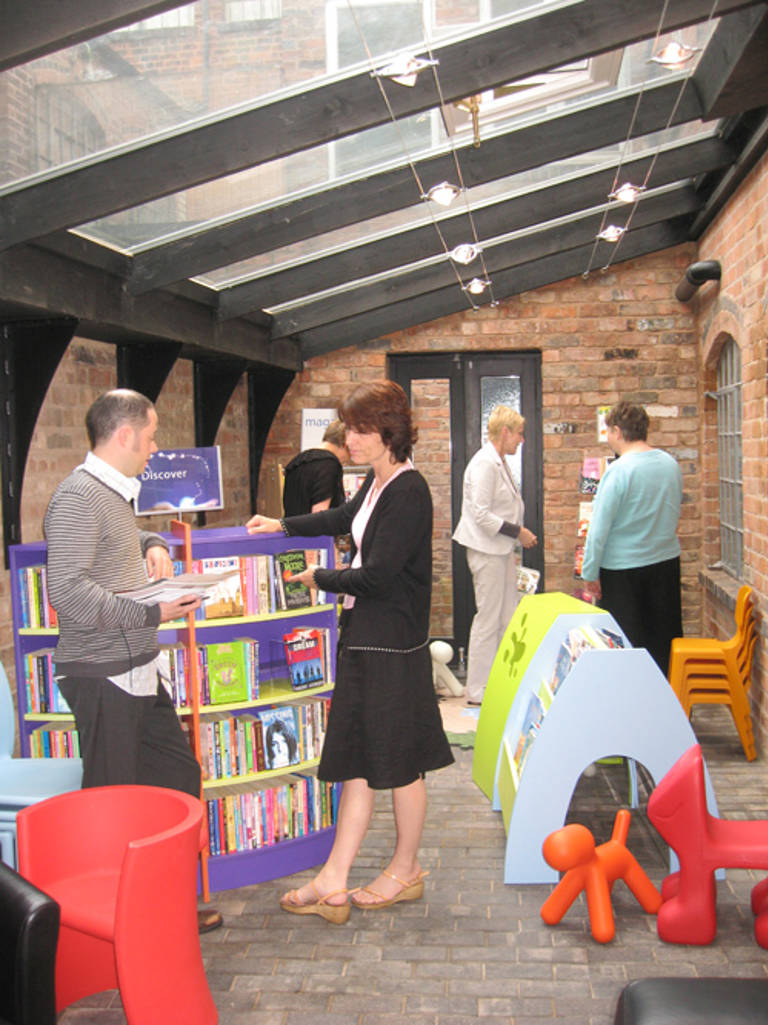 2006
From small beginnings with a stand in 2002, Opening the Book and Opening the Book Furniture become one of the big draws at the annual Library & Information Show. Our stand is the busiest and our programmed speeches draw the biggest number of participants.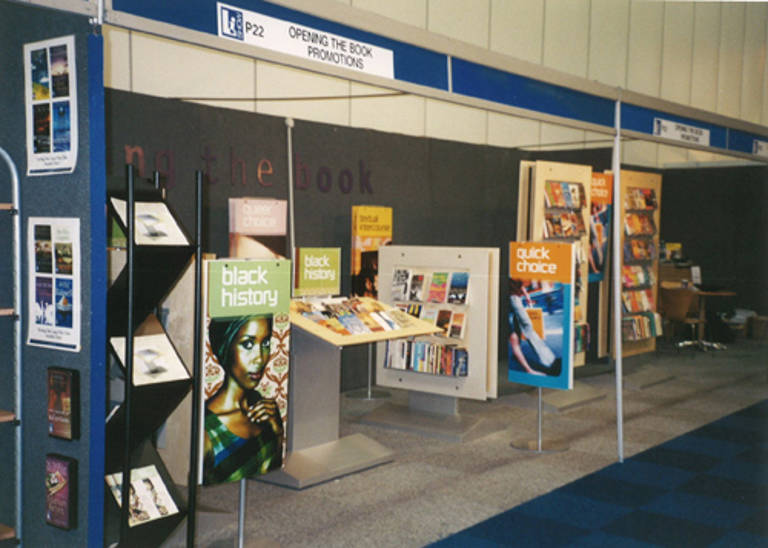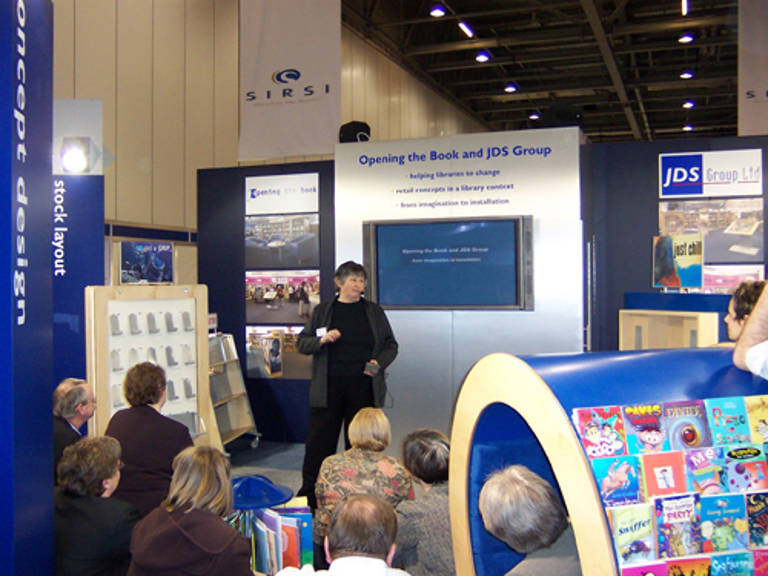 Completion of Branching Out phase 2. The 33 library services who participated in the first phase of Branching Out learned so much that the Society of Chief Librarians, our partners, wanted us to roll out the programme to all 149 services in England – a tall order! Supported again by Arts Council England, we took our training methods online and developed, piloted and rolled out the most successful large-scale online training project in libraries- and possibly in local government. Called Frontline, it launched in 2005 and was used by 98% of English library services in the next 3 years, then by all Welsh and Irish services and most in Scotland. After both working for us on a part-time basis, Carol Cooper becomes full time Business Manager and Tris Campbell becomes full time Web Developer. Along with Anne Downes, our training guru, they are both essential to the rollout of our Frontline programme.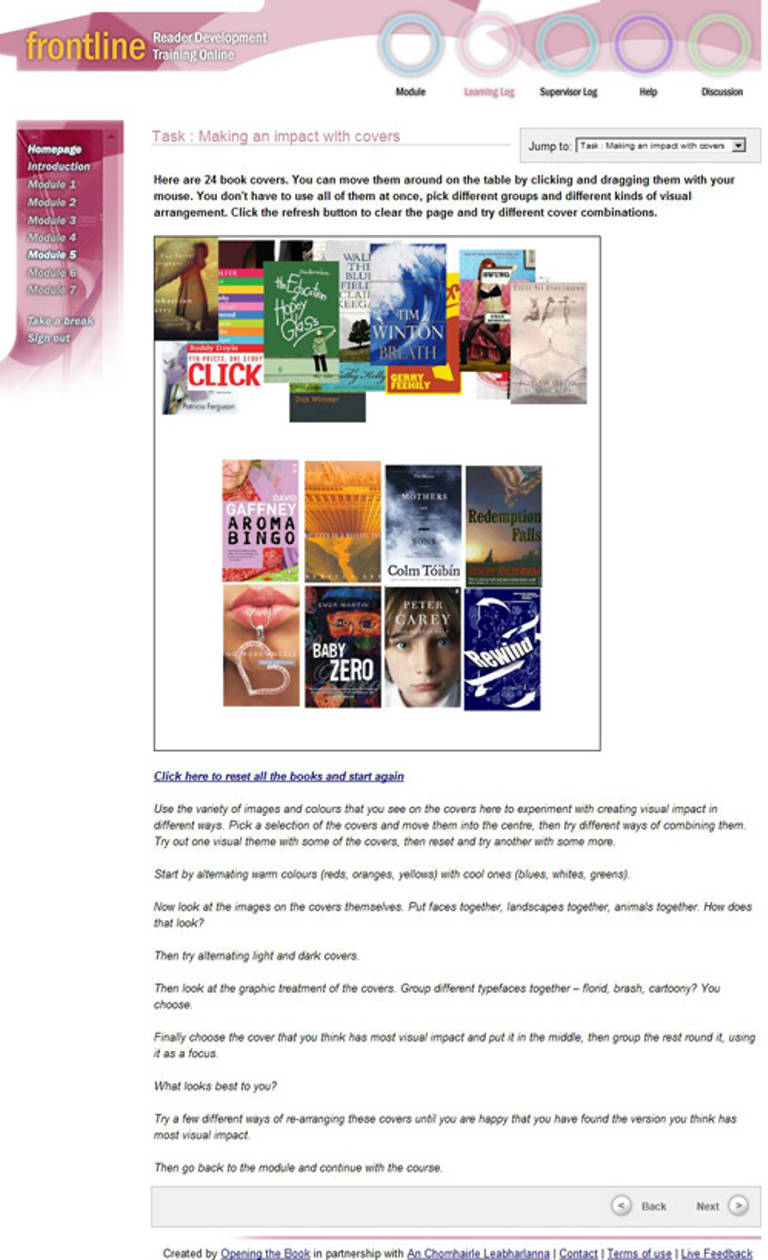 2005
Opening the Book Furniture goes on the road with a tour of 9 regional events – yes, we even had the T-shirts. Fortunately Jane Jackson joined us in 2004 to help organise this.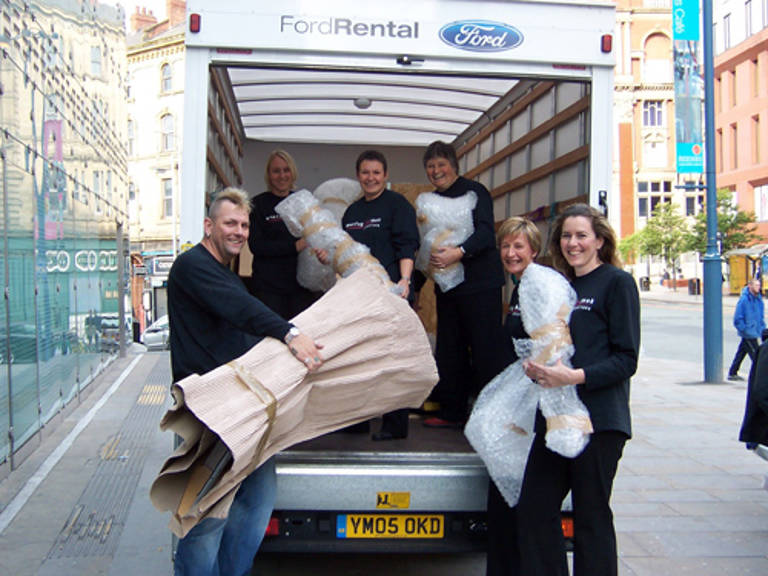 2004
Our designs for library interiors and for children's display furniture bring fresh air into the library market which has been staid and dull for years. Soon our competitors catch on – one of them had the grace to say Opening the Book raised the game in libraries for everybody.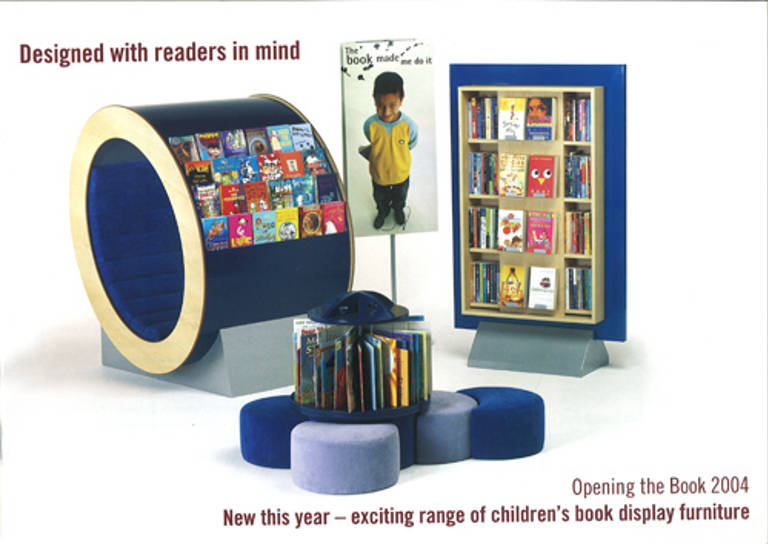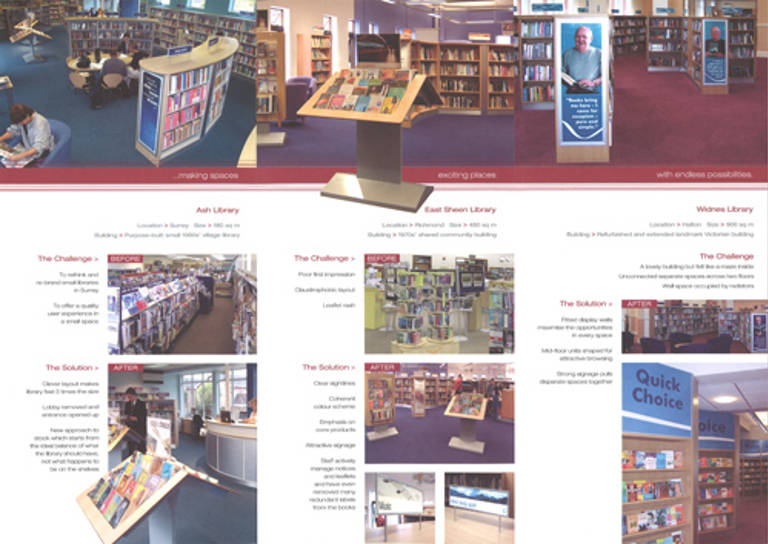 We are commissioned to create a tool to measure the quality of adult fiction collections in libraries across England. This produces fantastic comparative data and sparks lots of debate as we use a reader-centred definition of quality as range. The Stock Quality Health Check is used from 2004-2007 by almost all library services.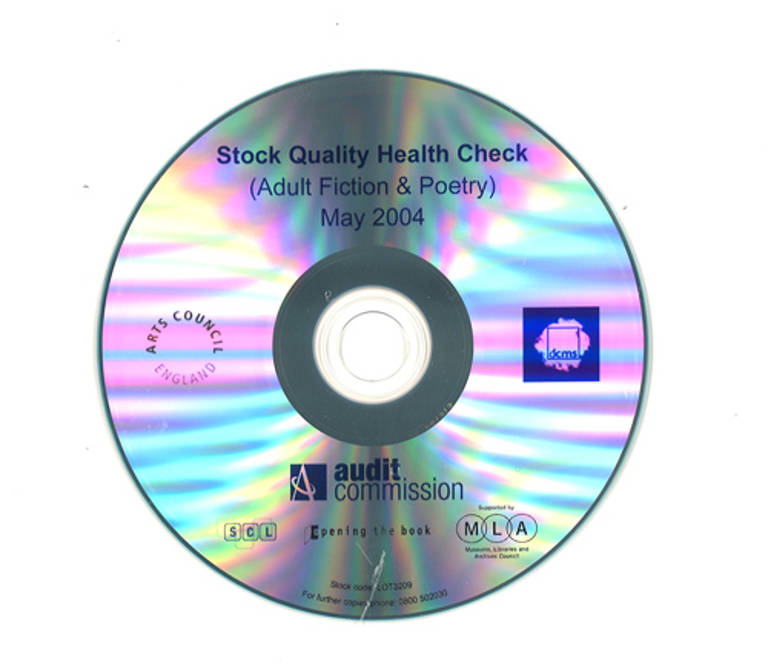 2003
First installation of an Opening the Book discovery layout with propeller shelving at Mere Green Library, Birmingham. This is the first of 50 library installations with then partner JDS.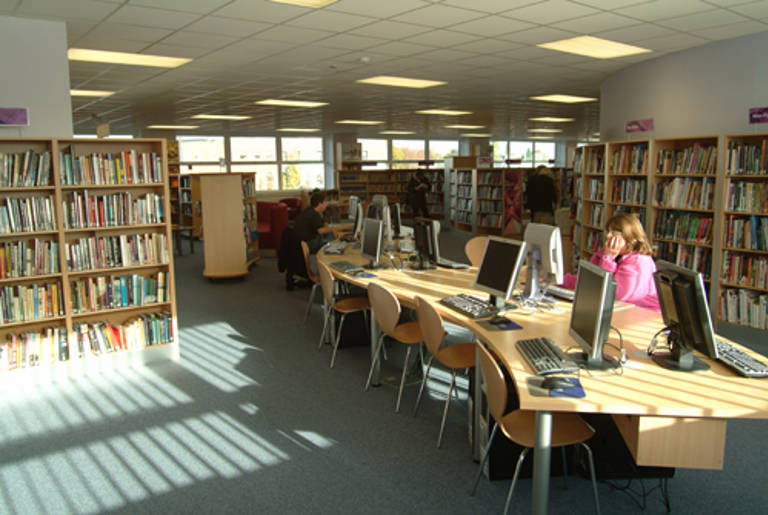 We pioneered the concept of quick choice, a collection of face-out paperbacks at the front of the library space, designed to offer an intriguing range to people who are looking to be tempted and can't spend much time choosing. Quick choice has had a direct impact on library performance wherever it has been introduced and we continue to offer furniture and graphics to support it.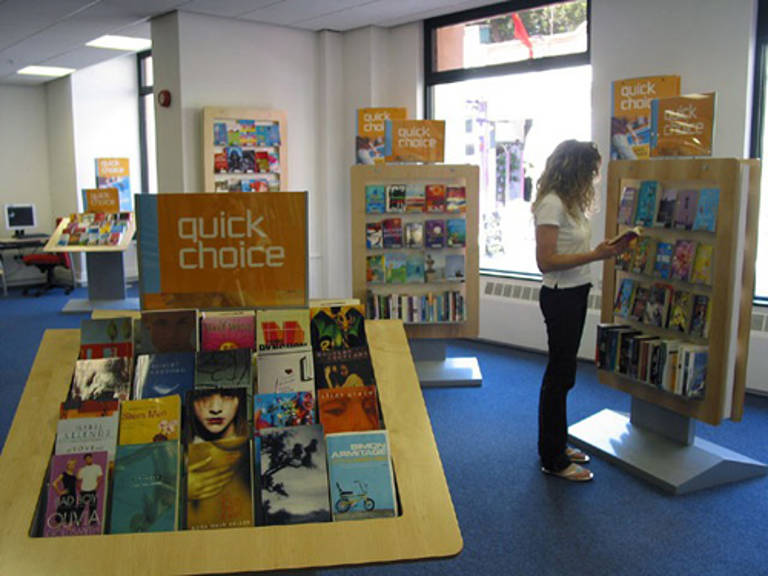 2002
Animating Literature Seminar for The British Council, introducing reader development ideas to a wide range of participating countries.
Whichbook.net, offering a new reader-centred way to choose books, is launched to great acclaim and numbers of visitors. Norwegian and Dutch versions follow. Our website team of Andy and Tris Campbell create groundbreaking websites for 8-15s (4ureaders.net) in Ayrshire and 16-25s (whatareyouuptotonight.com)in the East Midlands plus a multilingual site (readers-online-europa.net) in a European international project.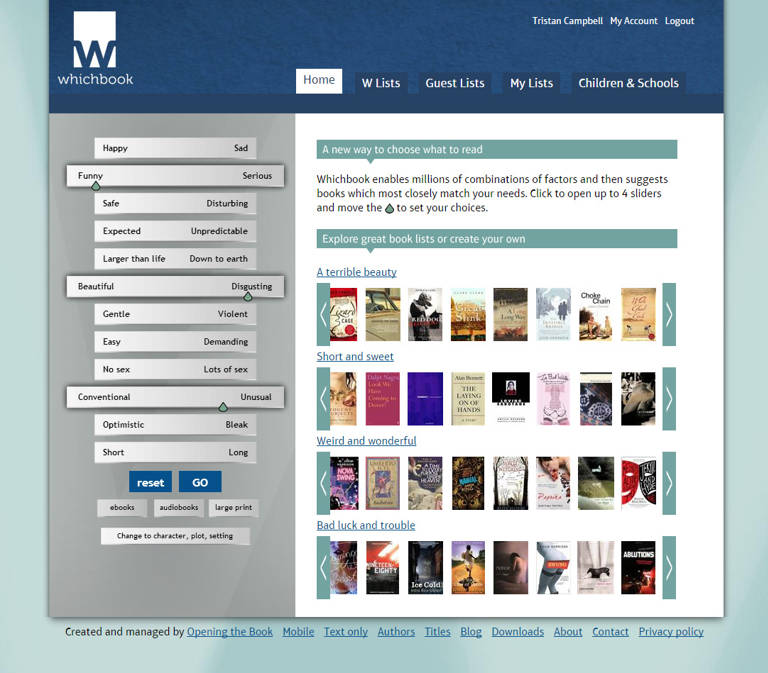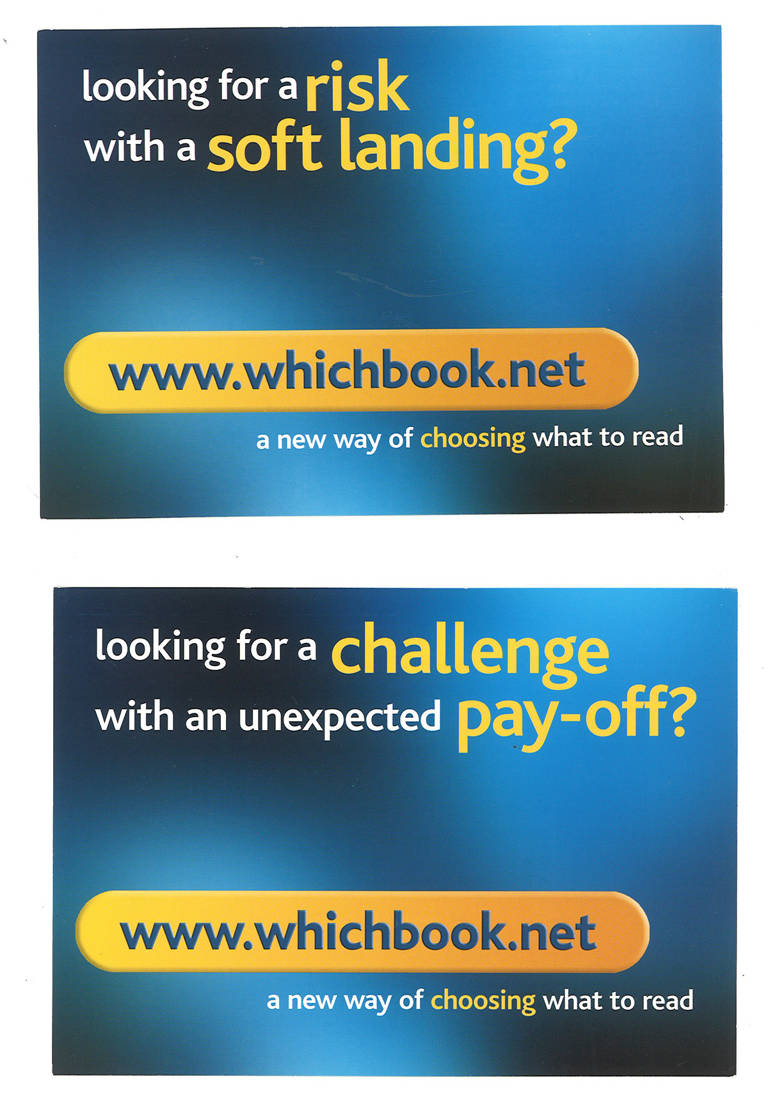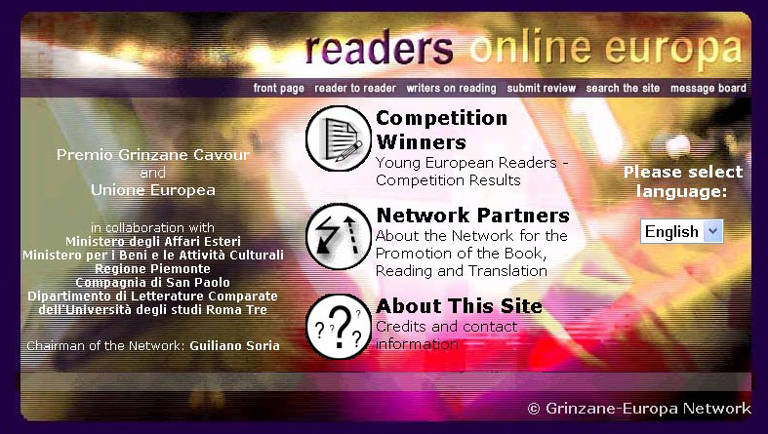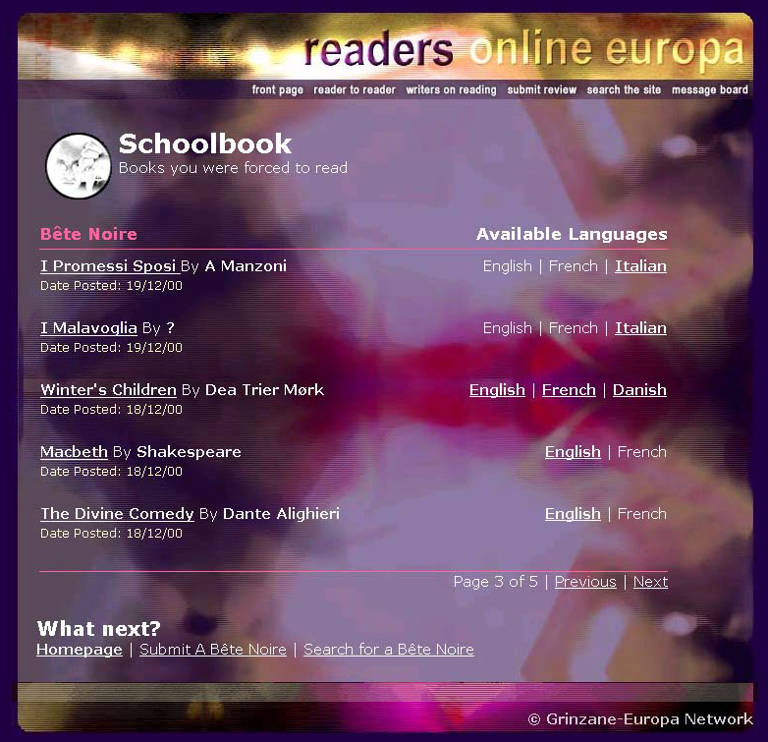 2001
Following success with The Mind's Eye and Open Ticket, Helen Thomas and Rachel Van Riel set up Opening the Book Promotions (later renamed Opening the Book Furniture) to bring the best of reader development and retail approaches together. The new company is based in Birmingham.
The Mind's Eye, a promotion of narrative non-fiction, gets record loans across England and Scotland and shows that reader-centred approaches can be applied to non-fiction just as much as to fiction.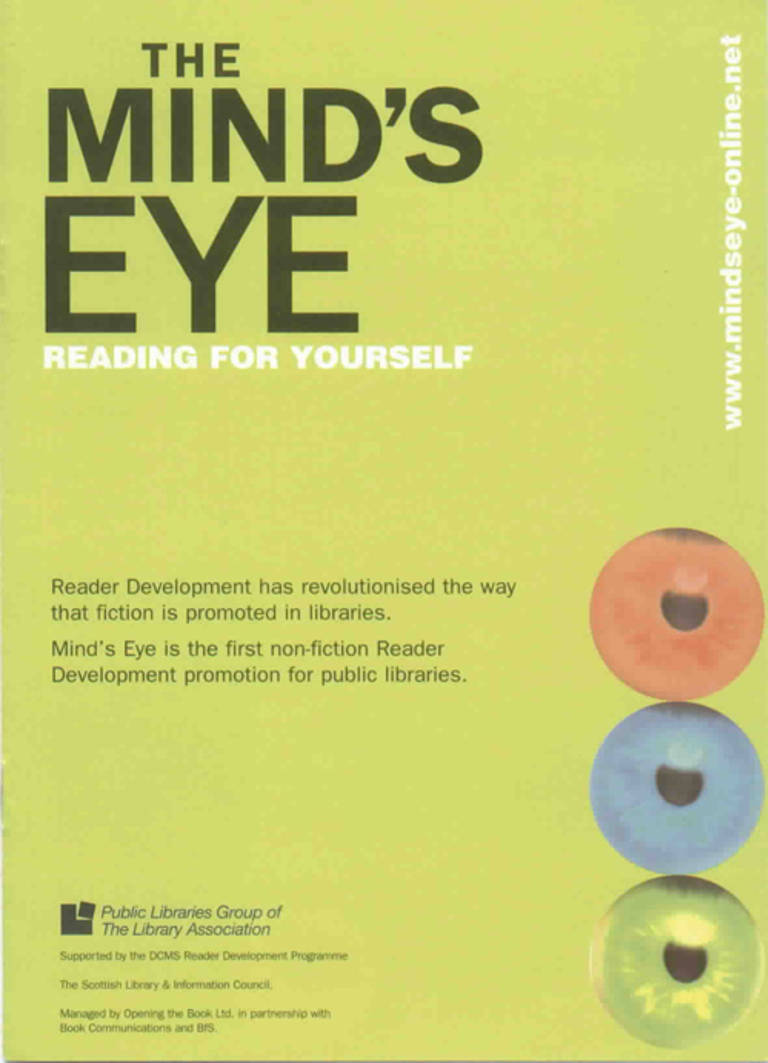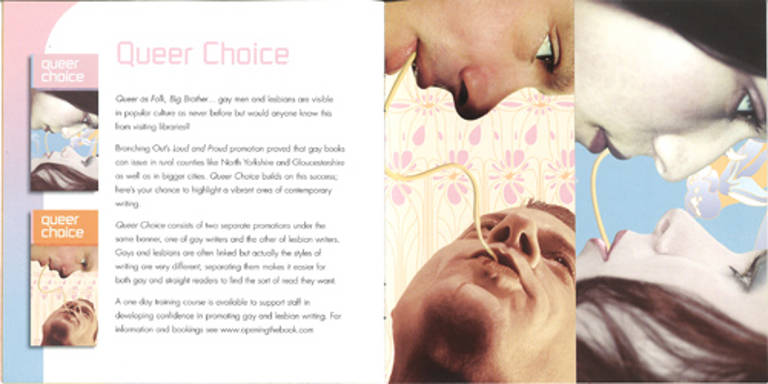 2000
The Opening the Book/Waterstone's Reading Group Toolbox is developed with 20 different pilot reading groups and distributed free to all libraries and prison libraries in England.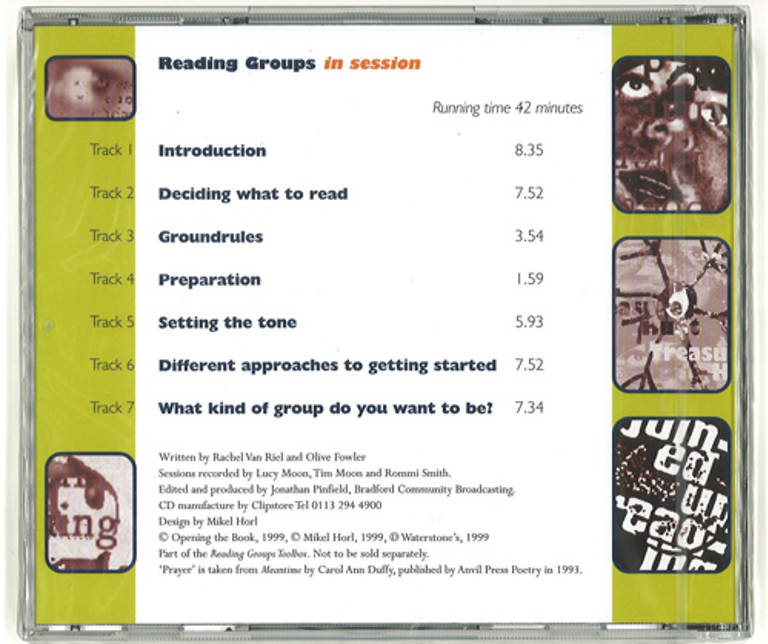 1998
The 3-year Branching Out programme to create agents of change across the English library service embeds reader development in policies, job descriptions, collection management, promotions, staff training and reader-centred websites as well as developing the careers of the 33 key librarians who participated. It was followed by a 3-year programme in Wales and a 2-year programme in Scotland.

1996-98
Opening the Book tackles many library training needs with a great team of freelancers - Anne Downes and Fiona Edwards start freelance and become permanent staff; Rommi Smith, Anne Caldwell and Ann Cleeves run hundreds of workshops with libraries across the UK. Opening the Book runs the first library training courses in many new topics: promoting Black British writing, promoting gay and lesbian writing, understanding reader behaviour, working with visually impaired readers, promoting poetry, introducing narrative non-fiction, reader development in prisons.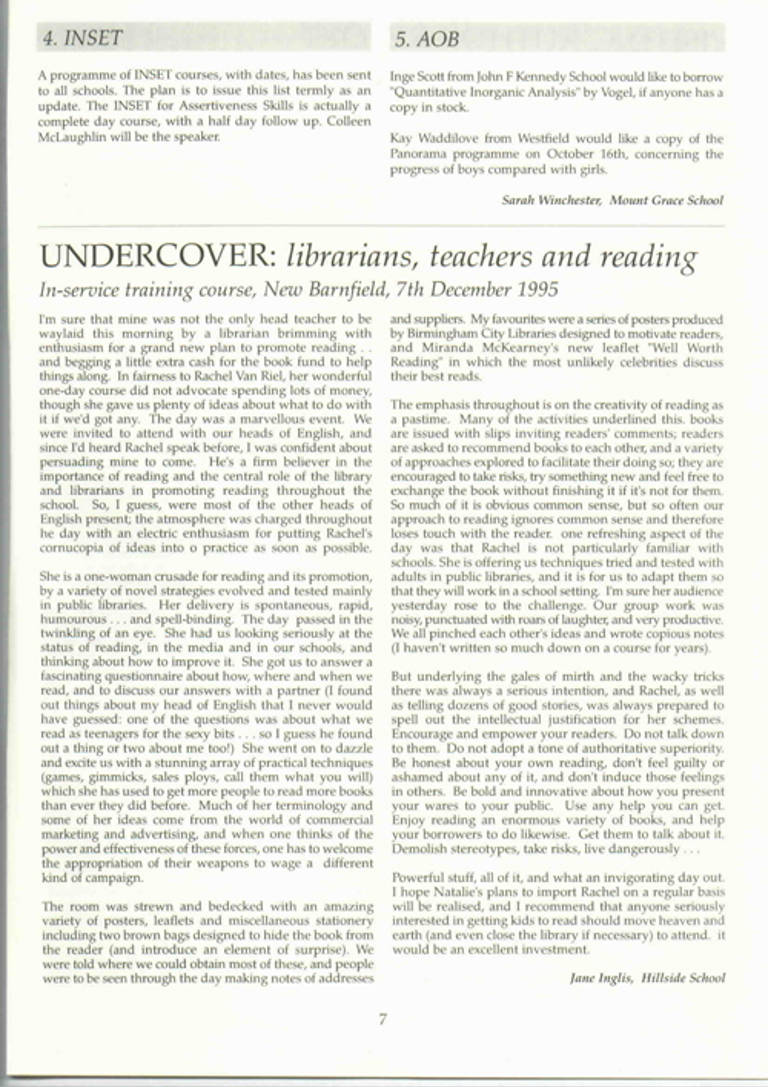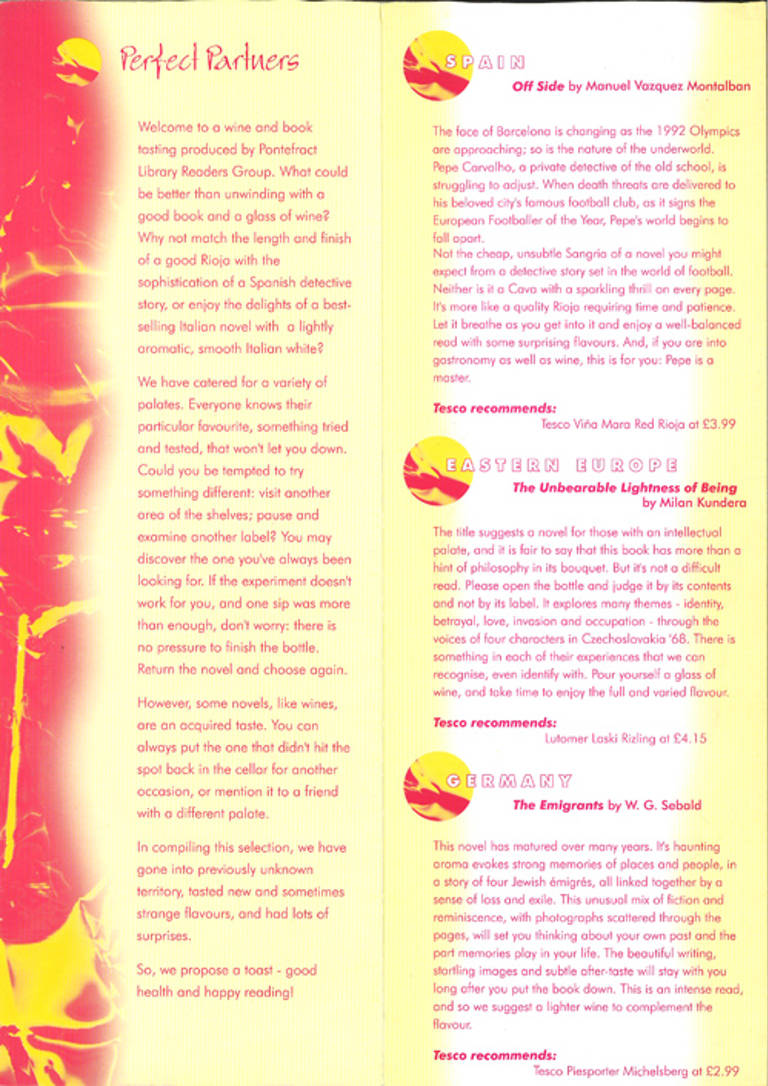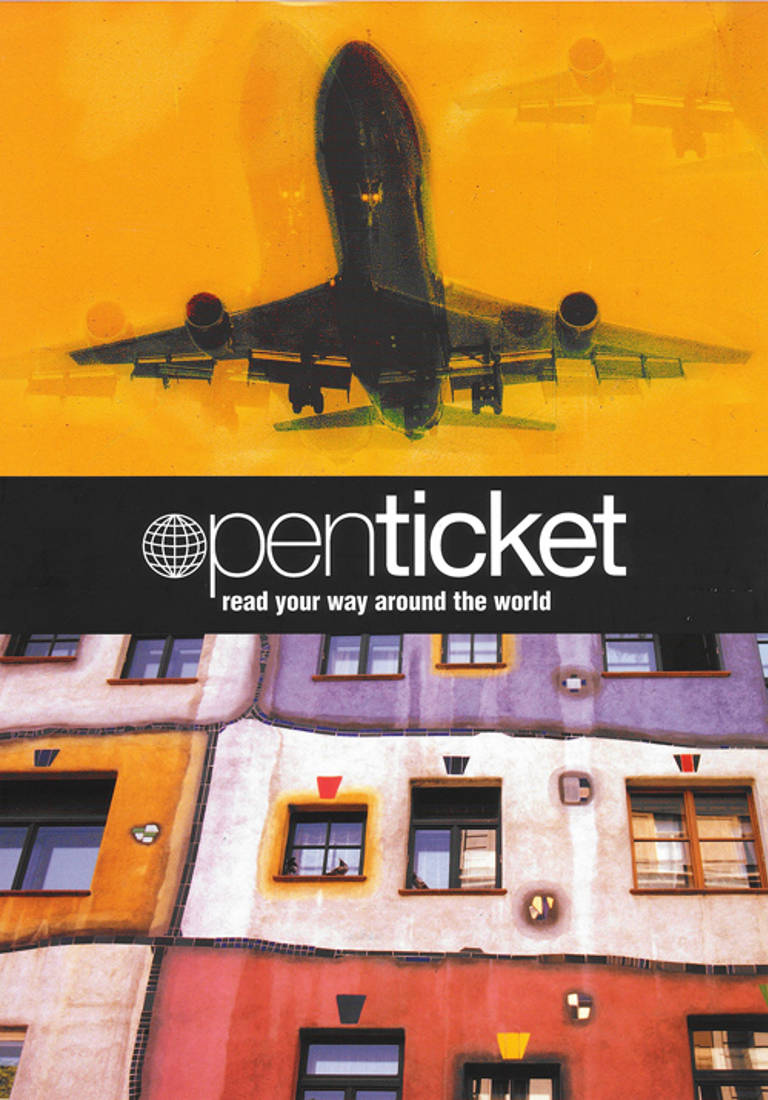 1997
First bookchain at Pontefract Library - Olive Fowler joins Rachel and this is her first project.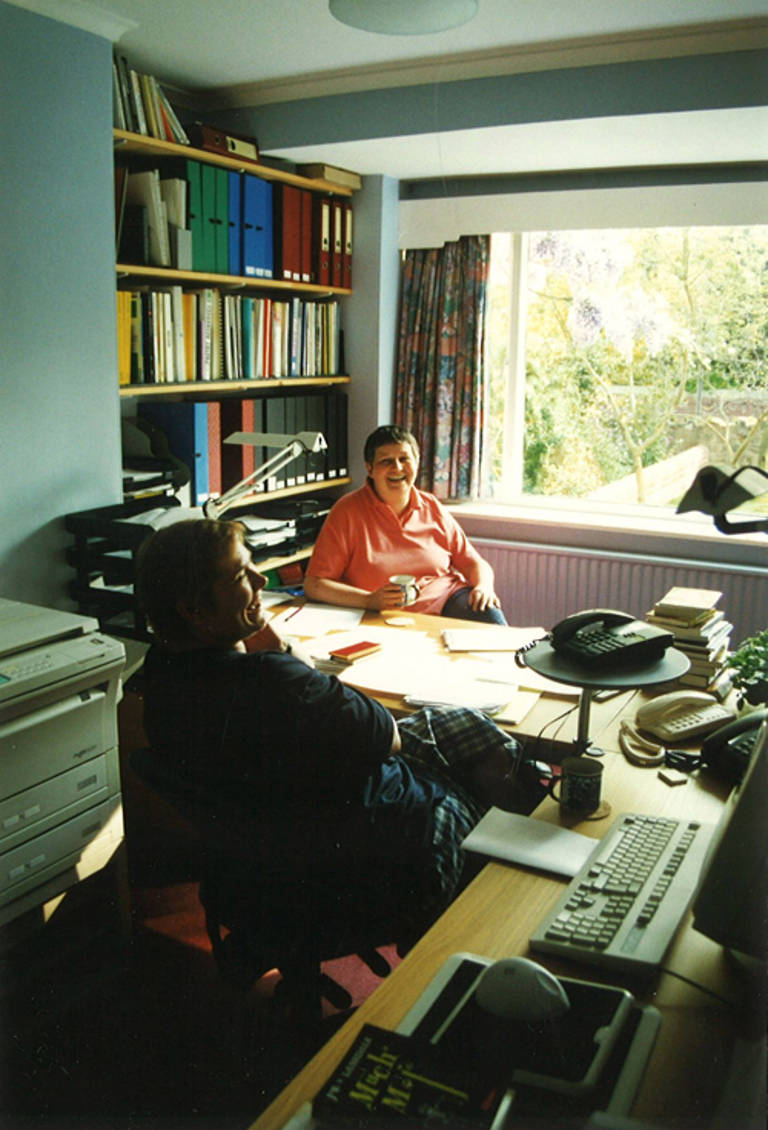 1994
First reader-centred reading group - Novel Approach with Bradford Libraries. The resulting open learning project becomes a book to help readers develop their own reading.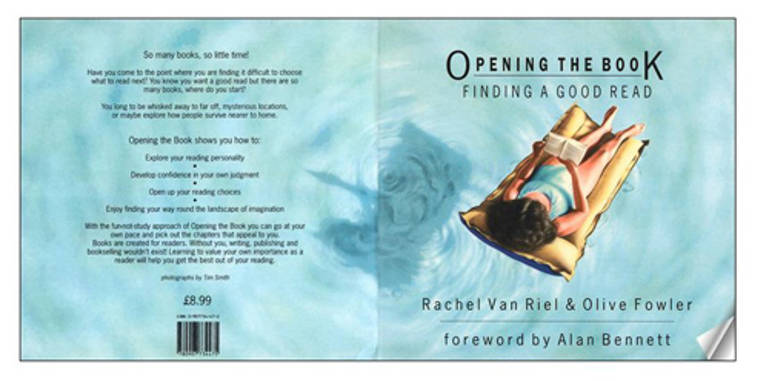 1993
First surprise book in a bag with Gloucestershire Libraries.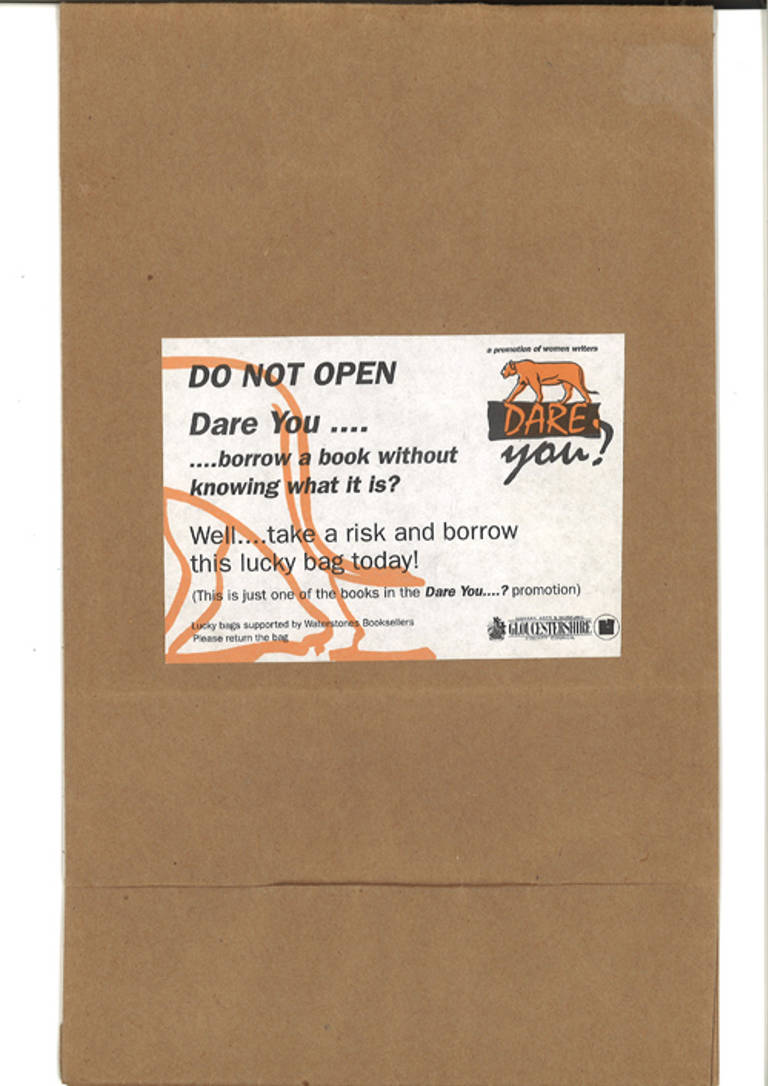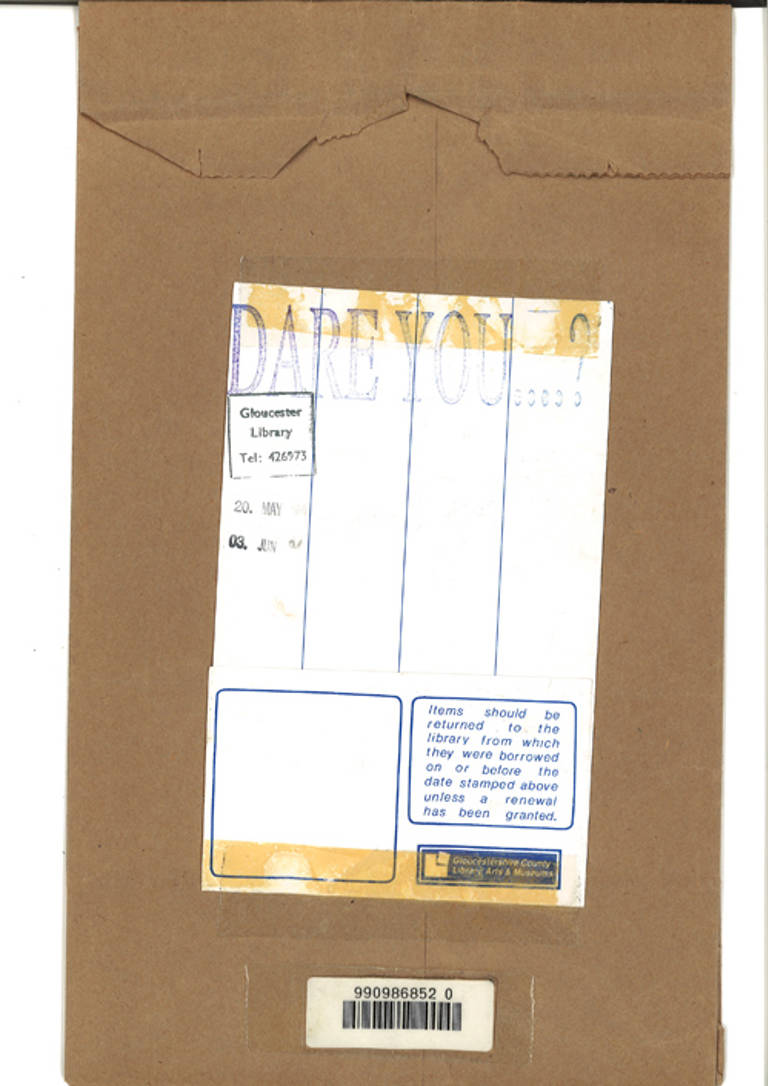 1992
Opening the Book creates Reading the Future for the Arts Council – a national seminar to consider the role of the public library in the promotion of contemporary literature. It is hailed as bringing about a sea-change in English public libraries.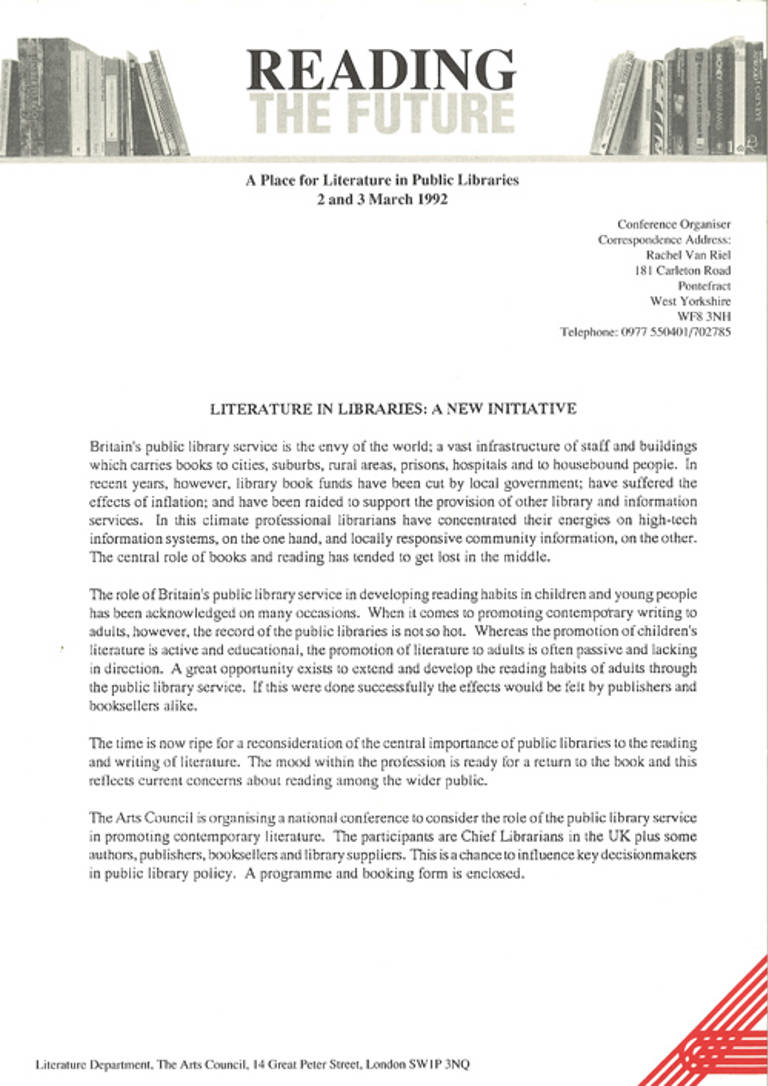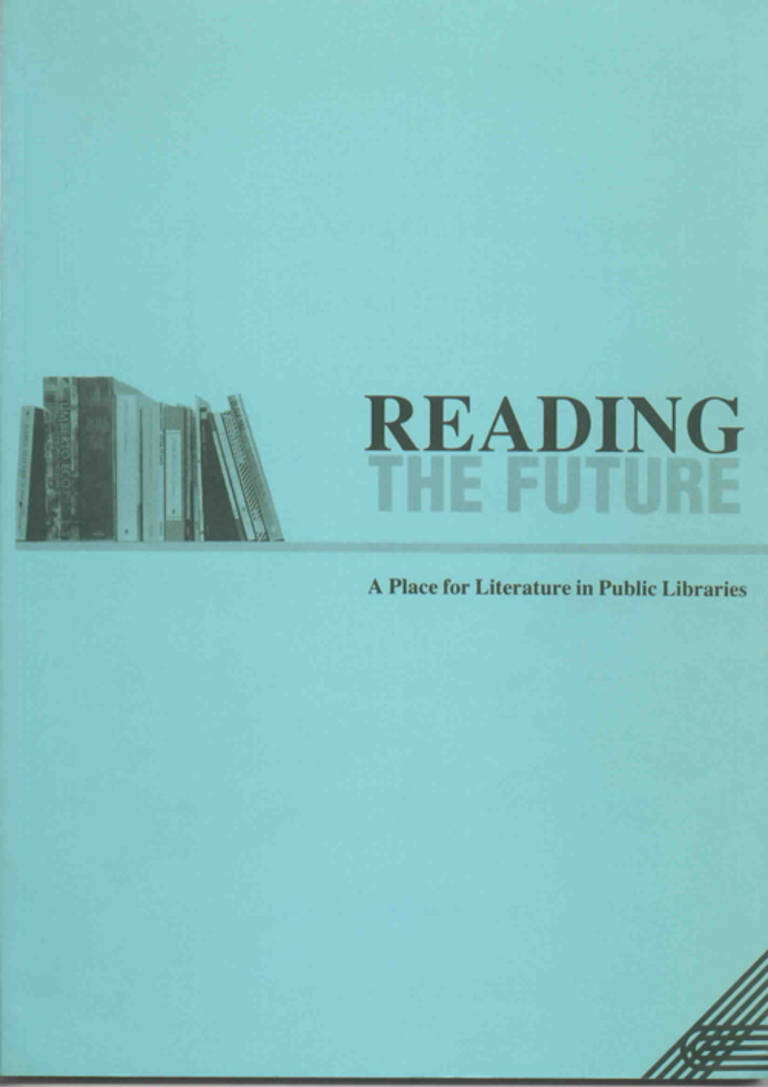 1991
First Creative Reading workshops with library staff funded by the Arts Council.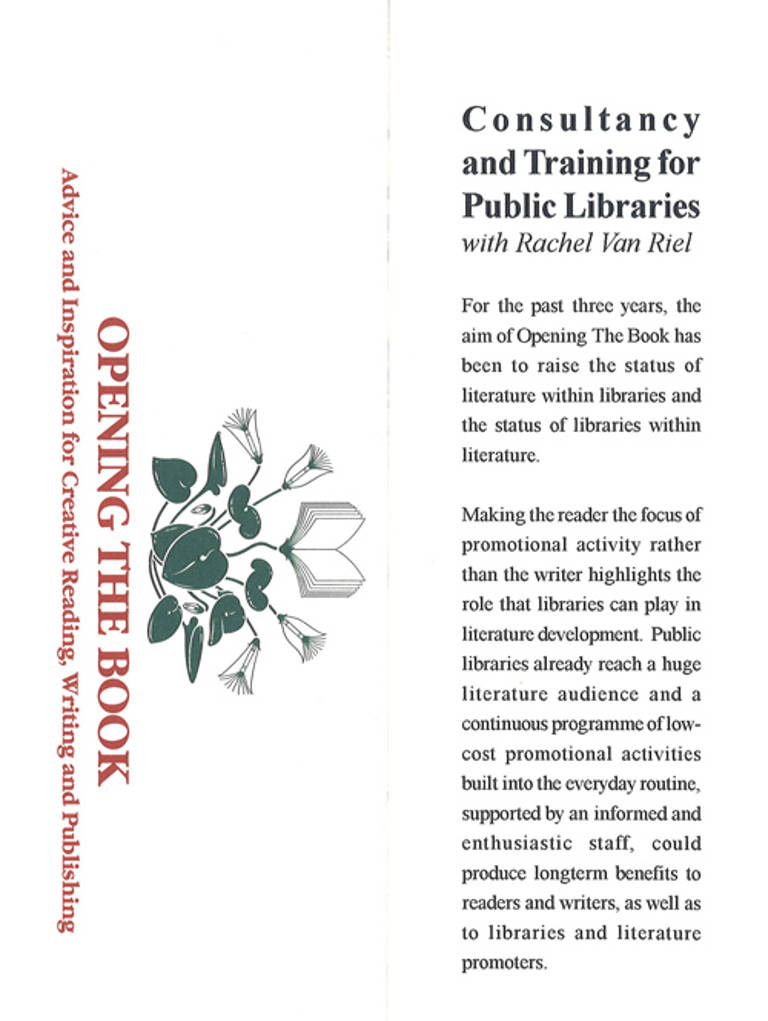 1990
Rachel goes freelance as Opening the Book – Advice and Inspiration for Creative Reading, Writing and Publishing.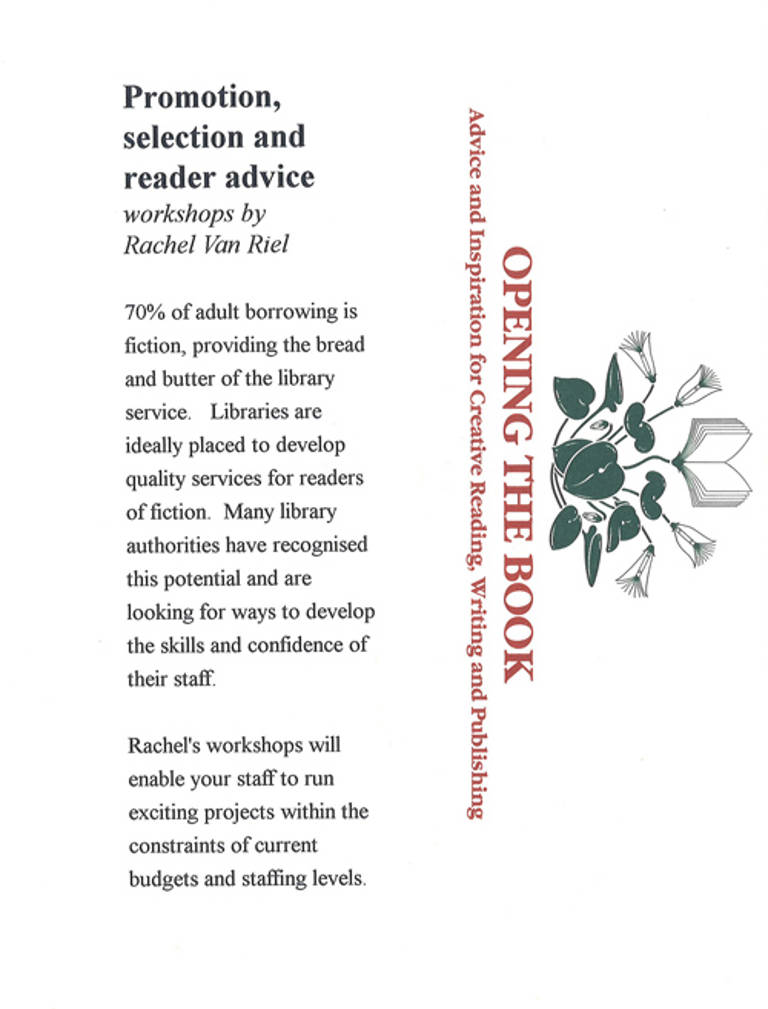 1989
Opening the Book Festival created by Rachel Van Riel and Chris Meade with Sheffield Libraries with innovations that change the face of literature festivals across the UK.